FLUX
Flux 360 Plus Daily Living Wheelchair
Sale price
Price
$1,499.00
Regular price
Unit price
per
Free Shipping in the Contiguous United States
Weight Capacity: 350 lbs.
Weight: 40 lbs.
Overall width (door clearance): 24.5"
Width between armrests: 19"
Seat width: 18"
Seat depth: 17"
Back height: 20"
Max tilt: 22 degrees
Armrests: flip-away
Seat to floor: 18"-21"
Footplates: removable
Hand rings: optional
Made in the USA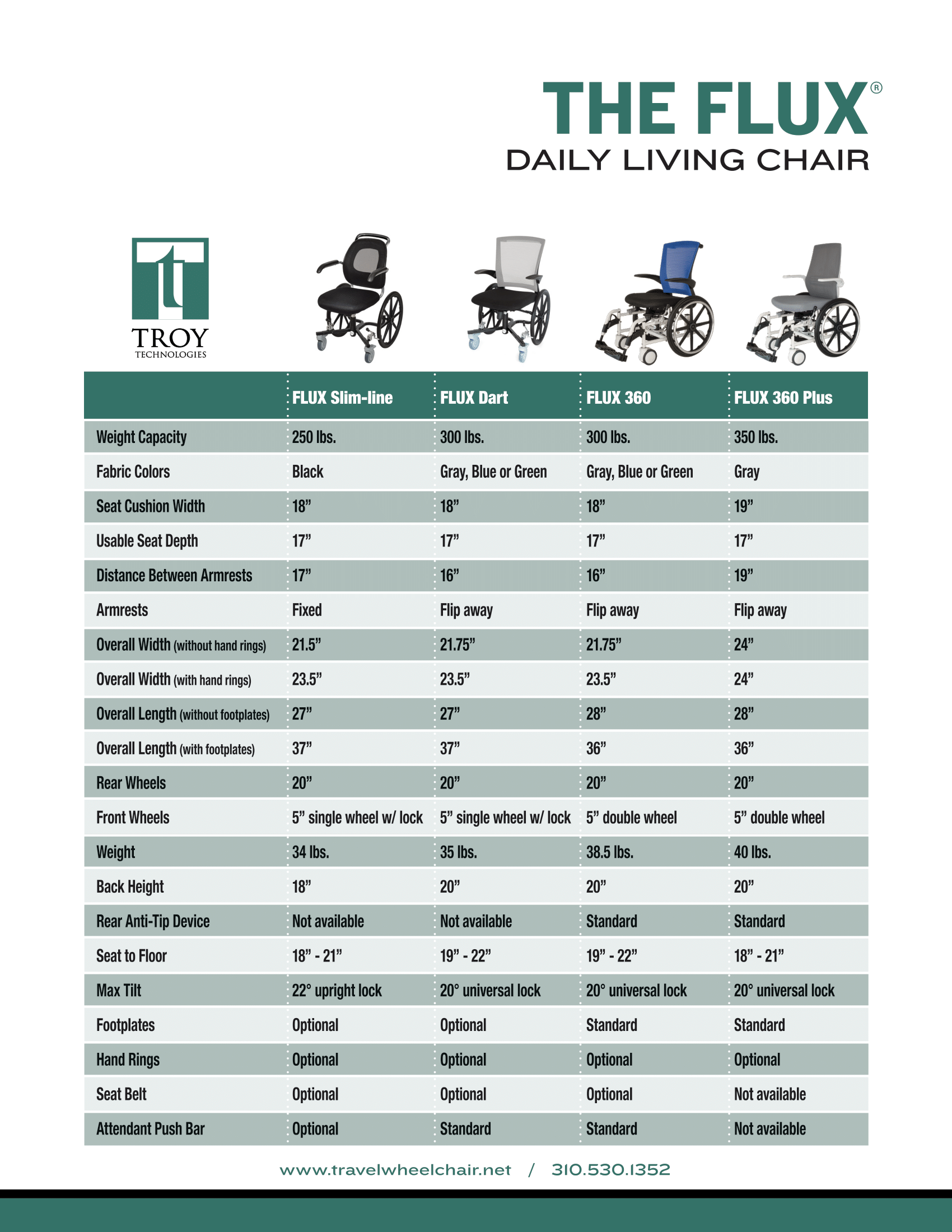 Note: free ground shipping for all orders in the US with promo code: TROYSHIP
Troy Technologies products are qualified for Health Savings Account (HSA) use & we accept payments through HSA. By using your HSA you may be able to lower your overall health care costs by reducing the amount paid in taxes.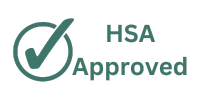 Many insurance companies do reimburse for this product. Contact your insurance provider for confirmation. We will provide you with a purchase receipt that you may submit to your insurance company for reimbursement.
HCPCS Code E1250
Troy Technologies, Inc. warrants to the original retail purchaser of the Troy Technologies product, that if any part thereof proves functionally defective in material or workmanship within the specified warranty period, such defective part will be repaired or replaced (at Troy Technologies' discretion) free of charge. Warranty service may be performed by an authorized service center or (at Troy Technologies' discretion) the factory.
Warranty Period: Soft goods - One year; Hardware - Lifetime
This warranty does not cover normal wear and tear or damage caused by accident or misuse.
To exercise this limited warranty, the user should first obtain a Return Authorization Number from Troy Technologies' customer service. The product must be delivered charges pre-paid (UPS recommended) to the factory or to an authorized service center, together with a copy of the original invoice, the Return Authorization Number and a written description of the problem.
This limited warranty excludes any claim for incidental or consequential damages. Any implied warranty applicable is limited to the duration of this written warranty. Some states do not allow the exclusion or limitations of incidental or consequential damages or limitations on how long an implied warranty lasts. So the above limitations or exclusions may not apply to you. There are no warranties which extend beyond the description on the face thereof.
This warranty gives you specific legal rights and you may have other rights that vary from state to state.
Warranty applicable in USA only, may vary in other countries.
Question: Does this wheelchair fold?
Answer: No. This product is intended for indoor use and around the house or office.
Question: How wide is it?
Answer: The wheelchair is 24.5 inches wide.
Question: Does this wheelchair have footrests?
Answer: The chair includes flip-away footrests.
Question: Can I try this at my local pharmacy?
Answer: No, this chair is only available through our online store. We have a full 30-day guarantee that will allow you to try the chair at no risk and make sure it is perfect for you.
Question: How do you adjust the tilt?
Answer: The tilting mechanism is spring loaded. Simply lean back and it will tilt with you. You can adjust the force of the spring with a knob. It' is the same type of adjustment you could expect to see on an office chair. There is also a locking mechanism that will lock the chair into the upright position.
Question: What is the seat height?
Answer: The seat is adjustable, offering height options ranging from 18" to 21" from the floor.
Question: How long will it take to get my new chair?
Answer: All orders ship within 48 hours via Fedex Gound service. The time it will take in transit will vary according to where it is shipped. Overnight shipments are available upon request. International shipments vary depending on the distribution arrangements within each country.
Question: Will my insurance pay for the chair?
Answer: Many insurance companies do reimburse for this product. Contact your insurance provider for confirmation. We will provide you with a purchase receipt that you may submit to your insurance company for reimbursement. HCPCS Code: E1250
Key features
Easy Reach Brakes- No more reaching and straining to engage the brakes! These new brakes are located higher on the frame, making them easier to reach by both the user and caregiver.
Double Front Wheel Casters- Carpet doesn't stand a chance against this upgrade! The new front casters are double-wheel medical-grade casters. Double wheel casters will roll and swivel easily to improve mobility on almost

all

surfaces.
Quick Release Rear Wheel Axles- Now you'll be able to easily take your chair anywhere! This quick-release feature will make transport a breeze.
Improved Foot Plates- Zip through narrow doorways with ease AND have the comfort of footplates! Heavy-duty foot plates that easily flip up and swing out of the way to improve comfort and functionality.
Superior Weight Distribution- Move better on any terrain! This improvement in weight distribution creates better rear-wheel traction on any surface.
Anti-tip Bars- We have always taken safety seriously, but this puts your/your loved one's safety on the next level!